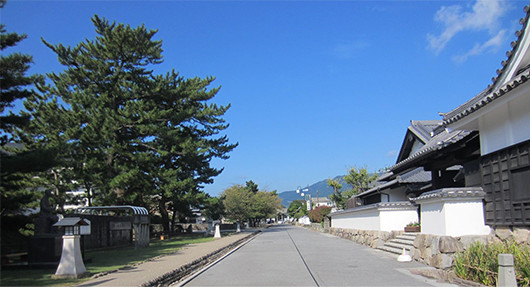 After the Battle of Sekigahara, Nobutoshi Kinoshita, the first lord of the Hiji Domain, was given enough land and food to feed 30,000 vassals from Himeji. With this wealth, he built Hiji Castle in this area in August 1602. The area around Hiji Castle became known as a castle town associated with Toyotomi, and there are still many historical sites reminiscent of those times.
The area around Hiji Castle Ruins includes cultural properties such as temples and shrines associated with the Hiji Han (feudal domain), as well as the domain school, Chido-kan, the only existing domain school in the prefecture. In addition, the Sumiyagura (Kimon-yagura) watchtower has been restored in recent years. There are many places where visitors can feel history. One is the family temple for the Taki ancestors, where one of Japan's leading composers, Rentaro Taki, was laid to rest. Another is the hill where one of Bungo's three sages, Banri Hoashi, rests in peace.
Also, be sure to visit "Tekizan-so", the former residence of Hiroe Narikiyo. He gained great wealth in the early 20th century from gold mining at Bajo Kinzan (Gold Mine) in the present-day Yamaga-machi, Kitsuki. Located on the former site of Sannomaru, the outermost ring of the former castle, it is still open as a Japanese restaurant serving marbled sole. As a symbolic facility in Hiji-machi and Oita Prefecture, "Tekizan-so" is visited by members of the Imperial family and many famous people.
Near the site of the Hiji Castle ruins, the visitor hub called Ninomaru Yakata is located. It has a free sightseeing car park, a visitor guide station, a rental cycle desk and a dining area. Why don't you go out for a walk in the castle town in search of the historic stories based here?