Course outline
START
Departure from Beppu Kusunoki Port
It takes 15 minutes by car from Beppu Interchange, or 15 minutes on foot from Beppu Station.
Beppu Bay Morning Market Cruises
At 7: 00 am, depart from Beppu Kusunoki Port. Time Required40 minutes (Beppu Bay Cruises)
Location/Toyo-oka 3460, Hijimachi
Telephone number/090-8833-7255(Cruising Unit, Tourism Section, Hiji Branch, Oita Fisheries Cooperative Association)
※Advance Reservation Required(As a rule, no fewer than 5 people )It costs 4,000 yen
※They also offer other mini-cruises and night-view cruises.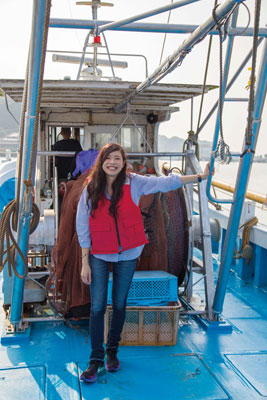 Next
Oga Fishing Port Morning Market and Breakfast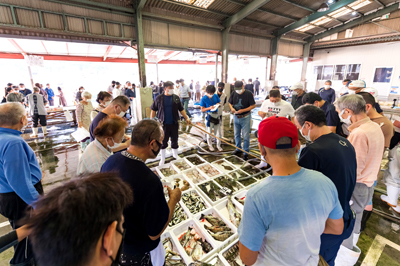 While savoring a fresh morning cruise on Beppu Bay, visit the morning market at the fishing port of Oga.
At Oga fishing port's morning market, ordinary customers can ask middlemen to buy the fish they want. They can also have the fish cleaned on the spot.
Enjoy a fisherman's breakfast at a restaurant open on Saturday morning.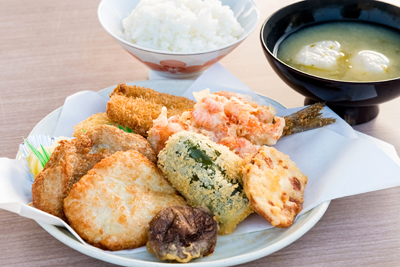 Oga Fishing Port Morning Market
Location/Fukae, Hiji-machi
Telephone number/0977-72-2051
Business hours/7:00~8:00
Regular holiday/Closed every Sunday (It may be closed on Wednesday.)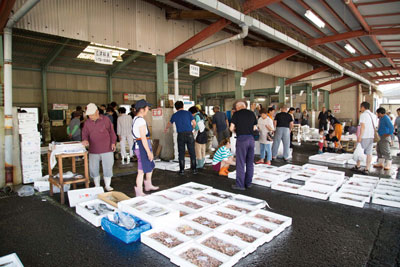 Next
Fukae Port Area Guided Tour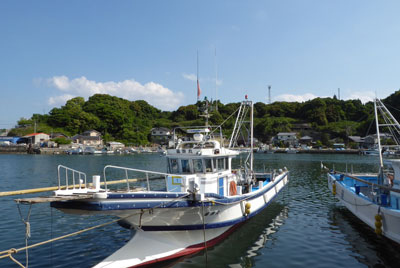 Take a walk through the port area of Fukae with a guide who knows its history very well.
The Oga fishing port, which flourished as a natural port, is characterized by a narrow port entrance and a deep cove. During the Edo period, it flourished with many ships waiting for wind and tide.
There still remains a streetscape in which taverns, wholesalers, and red-light district stand. In the center of the street is "Kinkoutei", a tea house which alternated as place for the lord of Hiji Domain to wait for the wind.
Time RequiredIt takes 60 to 90 minutes.
Fukae Port Area Guided Tour
Telephone number/0977-72-4255(Hiji Tourism Association)
※Advance Reservation Required(As a rule, no fewer than 2 people )It costs 500 yen.
※In addition, there is another course called "Kaiten", where you can learn about the human torpedo method of attack that was used during the war.
It takes 40 minutes by boat.
Onsen Hot Spring Bath and Tour of the Hells of Beppu→Dishes Steamed in Hell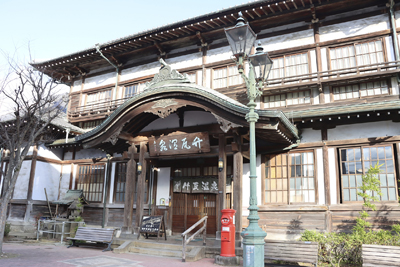 The Royal Route Only at Japan's Best Hot Spring Resort
It's a five-minute walk from Minato Port, Beppu. Built 70 years ago, the wooden retro-style "Takegawara Onsen" is a must-see. Taking a regular sightseeing bus on a tour of the Hells of Beppu is recommended, too. Why not try some dishes steamed in hot spring steam?
Takegawara Onsen
Location/Motomachi 16-23, Beppu
Telephone number/0977-23-1585
Business hours/6:30~22:30
Regular holiday/Closed on the third Wednesday (only sand bath)
Fees/It costs 100 yen (1,030 yen for the sand bath)
Beppu Tour of Hells
Depart from Kitahama Bus Centre at 11: 45 am.
Telephone number/0977-23-5170(Kamenoi Bus Kitahama Bus Centre)
Business hours/Daily service is available.
Fees/It costs 3,650 yen for adults and 1,740 yen for children.
※The time required is 2 hours and 30 minutes.
Beppu Hells Iron Ring Workshop
Location/Fifth Bath Group, Beppu
Telephone number/0977-66-3775
Business hours/Open from 9:00 to 21:00
Regular holiday/Closed on the third Wednesday.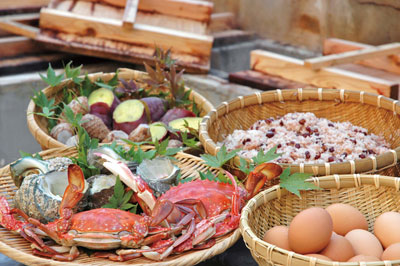 ※Other places to visit in a 30-minute radius include Umitamago (Oita City), African Safari (Usa City) and Yufuin.