Course outline
START
Gather in Ninomaru Yakata.
It takes five minutes by car from Hiji Interchange, or five minutes on foot from Yokoku Station.
Get the sea & mountain map at the sightseeing exchange base "Ninomaru Yakata" in Hiji-machi, and drive to the trailhead of "Yamada Yusui".
15 minutes by car
Kyozuka-yama Trekking from the Yamada Yusui (Spring) Trailhead
Refresh yourself with amazing views by trekking!
Aim for the summit of Mt. Kyozuka, where you can take in 360-degree panoramic views on the path Xavier walked (Nishi Kashima Narugoe Road). There's also a guided plan to go trekking with a tree doctor.
It takes 90 to 120 minutes each way.
Time RequiredIt takes 90 to 120 minutes each way.
Walking and Trekking with Tree Doctors
Telephone number/0977-72-4255(Hiji Tourism Association)
Time Required/It takes about five hours.
※Advance Reservation Required(Five to ten people, in principle) From 5,000 yen per group
※Miyama-kirishima, a protected species of azalea, flowers in mid-May and October-December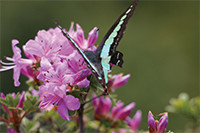 15 minutes by car
Hiji Port Departure (Beppu Bay Mini Cruise)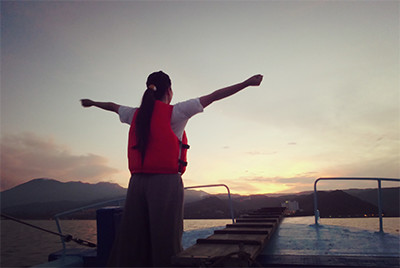 Relax on the Beppu Bay Mini-cruise
From the Yamada Yusui trailhead, drive 15 minutes to Hiji Fishing Port, where this mini-cruise departs from. Look at the Kanagoe mountain range (Kyozuka-yama) from the sea. The glittery seascape on the sunset cruise in Beppu Bay is especially beautiful.
Time RequiredIt takes 30 to 45 minutes.
Beppu Bay Mini Cruise
Telephone number/090-8833-7255(Cruising Unit, Tourism Section, Hiji Branch, Oita Fisheries Cooperative Association)
※to be paid up to three days in advance.Advance Reservation Required(As a rule, no fewer than 5 people )It costs 2,000 yen.
※Other morning market and night-view cruises are available.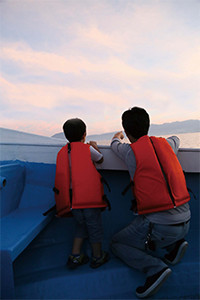 ※Combining guided tours and tea ceremony experience plans at the castle ruins town is also recommended.